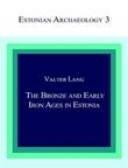 The Bronze and Early Iron Ages in Estonia
0 Ungluers have Faved this Work
This book analyses social, economic, and cultural processes during the Bronze and Early Iron Ages (18th century BC – 5th century AD) in what is today Estonia. The above period between the Stone Age (ca. 9000–1800 BC) and the Middle Iron Age (AD 450–800) was an era of significant and crucial developmental processes. The final transition from a foraging to a farming economy occurred during that time and resulted in an extensive settlement shift from suitable hunting and fishing places to agricultural lands. In relation to the above processes, the general settlement pattern changed, and the agricultural household as the main settlement unit became prevalent. Social relations also changed, which contributed to the development of stratified societies, at first mainly in coastal Estonia and later throughout continental Estonia. Significant developments took place both in material and intellectual culture. By the end of the period the Estonian areas had changed beyond recognition compared to what they had been at the beginning of the period.
This book is included in DOAB.
Why read this book? Have your say.
Rights Information
Are you the author or publisher of this work? If so, you can claim it as yours by
registering as an Unglue.it rights holder
.
Downloads
This work has been downloaded 155 times via unglue.it ebook links.
8 - pdf (CC BY-NC-ND) at OAPEN Library.
27 - pdf (CC BY-NC-ND) at OAPEN Library.
120 - pdf (CC BY-NC-ND) at OAPEN Library.
Keywords
anthropology
Bronze age
Eastern Europe
Estonian archaeology
Ethnoarcheology
Nonfiction
Prehistoric Land settlement patterns
Prehistoric peoples
Editions