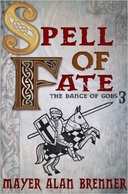 7 Ungluers have Faved this Work
Trouble is converging on the imperial city of Peridol, and whatever dance the gods are planning, Maximillian the Vaguely Disreputable wants to stay out of it. No such luck, though--it's up to Max and his friends the Great Karlini and the Creeping Sword to unseat the despotic gods, who treat the mortal realm like a giant chess board. But with the gods fighting amongst themselves, no one is going to win this battle anytime soon ... Until a long-forgotten player re-enters the dance.
The Dance of Gods Book 3. More books by Mayer Alan Brenner at Vaguely Disreputable.
Why read this book? Have your say.
Editions