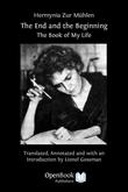 The End and the Beginning
0 Ungluers have Faved this Work
First published in Germany in 1929, The End and the Beginning is a lively memoir of a vanished world and of a rebellious young woman's struggle to achieve independence. Born in 1883 into a distinguished and wealthy aristocratic family of the old Austro-Hungarian Empire, Hermynia Zur Mühlen spent much of her childhood traveling in Europe and North Africa with her diplomat father. After five years on her German husband's estate in czarist Russia she broke with both her family and her husband and set out on a precarious career as a professional writer committed to socialism. As well as translating many leading contemporary authors, notably Upton Sinclair, into German, she herself published an impressive number of politically engaged novels, detective stories, short stories, and children's fairy tales. Because of her outspoken opposition to National Socialism, she had to flee her native Austria in 1938 and seek refuge in England, where she died, virtually penniless, in 1951. This revised and corrected translation of Zur Mühlen's memoir—with extensive notes and an essay on the author by Lionel Gossman—will appeal especially to readers interested in women's history, World War I, and the culture and politics of the late nineteenth and early twentieth centuries. Seven free online supplements are also provided, containing additional original material including a selection of newly translated stories by Zur Mühlen, biographical essays by Gossman and a portfolio of images. The Federal Ministry of Education, Art, and Culture, Department of Literature (/BMUKK-Kultur; Literaturabteilung/), Vienna, Austria, has generously contributed towards the publication of this volume.
This book is included in DOAB.
Why read this book? Have your say.
Rights Information
This work has been claimed by Open Book Publishers.
Downloads
This work has been downloaded 35 times via unglue.it ebook links.
5 - pdf (CC BY-NC-ND) at OAPEN Library.
30 - pdf (CC BY-NC-ND) at OAPEN Library.
Keywords
Austrian literature
Austro-Hungarian Empire
Autobiography
Biography
Biography & Autobiography
Biography & Autobiography / Historical
Biography & Autobiography / Personal Memoirs
Biography & Autobiography / Women
European History
Feminism
First World War
German literature
Germany
Great War
Memoir
Nazism
women's history
World War I
Links
DOI:
10.11647/OBP.0010
Editions