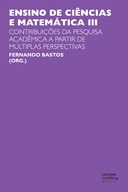 Ensino de ciências e matemática III: contribuições da pesquisa acadêmica a partir de múltiplas perspectivas
0 Ungluers have Faved this Work
O livro Ensino de ciências e matemática III: contribuições da pesquisa acadêmica a partir de múltiplas perspectivas, publicado pela Cultura Acadêmica Editora, tem como objetivo comunicar e oferecer ao debate alguns resultados recentes da produção de pesquisa do Programa de Pós-Graduação em Educação para a Ciência da UNESP, vinculado à Faculdade de Ciências do Campus de Bauru (SP). Assim, reúne, para acesso de pesquisadores, professores e estudantes, nove relatos oriundos de trabalhos de mestrado, doutorado, pós-doutorado e similares, desenvolvidos junto ao referido Programa, e passíveis de contribuir para a discussão e encaminhamento de uma série de questões atuais do ensino de ciências.
This book is included in DOAB.
Why read this book? Have your say.
Rights Information
Are you the author or publisher of this work? If so, you can claim it as yours by
registering as an Unglue.it rights holder
.
Downloads
This work has been downloaded 63 times via unglue.it ebook links.
19 - mobi (CC BY-NC-SA) at Unglue.it.
20 - epub (CC BY-NC-SA) at SciELO.
24 - pdf (CC BY-NC-SA) at SciELO.
Keywords
Editions