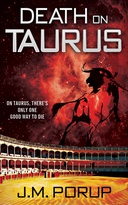 0 Ungluers have Faved this Work
On Taurus, there's only one good way to die.
On the bullfighting planet of Taurus, in the far distant future, a genetically engineered race of half-man, half-bull stages ritual blood sacrifices to the gods—human viewers light-years away. Vizzer, the high priest who presides over the daily slaughter, loathes the fights and wants to end them.
When news arrives that the humans have destroyed themselves in an interstellar civil war, he deposes the king and outlaws the fights. But not all the humans are dead. Carlos the Creator lies in stasis on Taurus itself. Vizzer comes face to face with an enraged and ancient god. And in so doing, he must also confront the truth of his own savage nature.
Why read this book? Have your say.
Rights Information
Are you the author or publisher of this work? If so, you can claim it as yours by
registering as an Unglue.it rights holder
.
Downloads
This work has been downloaded 43 times via unglue.it ebook links.
20 - mobi (CC BY-NC-SA) at Unglue.it.
23 - epub (CC BY-NC-SA) at Unglue.it.
Keywords
Bullfights
Fiction
Fiction / Science Fiction
Links
web:
https://github.com/toholdaquill/death-on-taurus
Editions