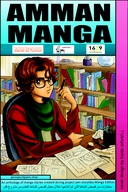 0 Ungluers have Faved this Work
In Jordan, and across the Arab world, many young people born in the 1980s grew up watching Manga cartoons on television. This was their earliest window into the culture and creativity of Japan.This ebook is a celebration of Manga as an artform and as a form of storytelling. Manga Amman was created during a one day 'Storylab', by a selection of artists and writers based in Amman. The stories are simple but charming, and range from the fun to the down right bizarre. Character and background art is included at the end of the ebook.'Amman Manga' is the first Arabic and English collection of Manga stories ever published in a single anthology, in ebook format.All of the stories are set in the Middle East.
Why read this book? Have your say.
Rights Information
Are you the author or publisher of this work? If so, you can claim it as yours by
registering as an Unglue.it rights holder
.
Downloads
This work has been downloaded 70 times via unglue.it ebook links.
26 - mobi (CC BY-NC-ND) at Unglue.it.
18 - pdf (CC BY-NC-ND) at Unglue.it.
26 - epub (CC BY-NC-ND) at Unglue.it.
Keywords
Anthologies
Fiction
Poetry - multi-author
Short stories - multi-author
Links
web:
https://www.smashwords.com/books/view/249916
Editions