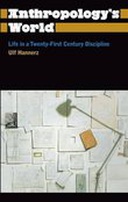 0 Ungluers have Faved this Work
A work that reassesses the issues that have always affected anthropology: what is anthropology for; how do anthropologists want their work to be understood; for whom do they write, and in what language? In his panoramic new book, Ulf Hannerz cements his reputation as one of anthropology's finest writers. He describes how anthropology came to be a major intellectual discipline, why it is vital that it remains so, and the problems it might face in the immediate future. Turning the anthropologist's toolkit upon the discipline itself, and asking searching questions of the purpose, ethics and future of the subject, Anthropology's World should be required reading for all students and practitioners of anthropology.
This book is included in DOAB.
Why read this book? Have your say.
Rights Information
Are you the author or publisher of this work? If so, you can claim it as yours by
registering as an Unglue.it rights holder
.
Downloads
This work has been downloaded 22 times via unglue.it ebook links.
8 - pdf (CC BY-NC-ND) at Unglue.it.
6 - pdf (CC BY-NC-ND) at OAPEN Library.
8 - pdf (CC BY-NC-ND) at OAPEN Library.
Keywords
!bisac SOC002000
anthropology
KUnlatched
Editions