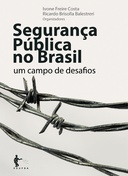 Segurança pública no Brasil: um campo de desafios
0 Ungluers have Faved this Work
A temática da gestão da segurança constitui um campo de desafios e remete, inicialmente, ao aspecto da construção social desse problema das violências e sua problematizarão sociológica. O livro se propõe a realizar uma reflexão sobre o campo do conhecimento da gestão da segurança pública, sob diversas óticas, agregando-se evidências empíricas e teóricas obtidas através da complementação de dados de pesquisas científicas e de um quadro traçado com as visões de pesquisadores do campo especialmente convidados.
This book is included in DOAB.
Why read this book? Have your say.
Rights Information
Are you the author or publisher of this work? If so, you can claim it as yours by
registering as an Unglue.it rights holder
.
Downloads
This work has been downloaded 32 times via unglue.it ebook links.
5 - mobi (CC BY) at Unglue.it.
15 - epub (CC BY) at SciELO.
12 - pdf (CC BY) at SciELO.
Keywords
Editions