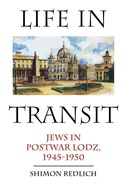 0 Ungluers have Faved this Work
"Life in Transit is the long-awaited sequel to Shimon Redlich's widely acclaimedTogether and Apart in Brzezany, in which he discussed his childhood during the War and the Holocaust. Life in Transit tells the story of his adolescence in the city of Lodz in postwar Poland. Redlich's personal memories are placed within the wider historical context of Jewish life in Poland and in Lodz during the immediate postwar years. Lodz in the years 1945-1950 was the second-largest city in the country and the major urban center of the Jewish population. Redlich's research based on conventional sources and numerous interviews indicates that although the survivors still lived in the shadow of the Holocaust, postwar Jewish Lodz was permeated with a sense of vitality and hope."
This book is included in DOAB.
Why read this book? Have your say.
Rights Information
Are you the author or publisher of this work? If so, you can claim it as yours by
registering as an Unglue.it rights holder
.
Downloads
This work has been downloaded 106 times via unglue.it ebook links.
22 - mobi (CC BY-NC) at Unglue.it.
15 - epub (CC BY-NC) at Unglue.it.
18 - pdf (CC BY-NC) at Unglue.it.
14 - pdf (CC BY-NC) at OAPEN Library.
37 - pdf (CC BY-NC) at OAPEN Library.
Keywords
Autobiography
Biography
Biography & Autobiography
Ethnic relations
History
Holocaust survivors
Holocaust, Jewish (1939-1945)
Jews
KUnlatched
Personal Narratives
Travel
Editions