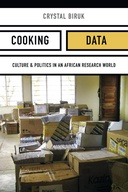 0 Ungluers have Faved this Work
COOKING DATA is an ethnographic study of how demographic data is collected, handled, processed, and manipulated by fieldworkers, researchers, policymakers, and NGOs in Malawi and internationally. Crystal Biruk's fieldwork with people at all levels of major survey projects explores how survey-based research projects call truths about the populations they work with into being, transforming data from answers to survey questions into statistics that appear self-evidently true. Beginning with the assumption that clean data is a myth, Biruk uncovers the hidden relationships between the knowledge work that produces data and its value to various audiences. Specifically, her work considers how health-related data have become financially valuable both to NGOs and to the young Malawians who work as data collectors and, later, supervisors--and how the commodification of health information intersects with local social worlds.
This book is included in DOAB.
Why read this book? Have your say.
Rights Information
Are you the author or publisher of this work? If so, you can claim it as yours by
registering as an Unglue.it rights holder
.
Downloads
This work has been downloaded 23 times via unglue.it ebook links.
7 - pdf () at Unglue.it.
5 - pdf (CC BY-NC-ND) at OAPEN Library.
11 - pdf (CC BY-NC-ND) at OAPEN Library.
Keywords
!bisac SOC002010
anthropology
KUnlatched
Editions