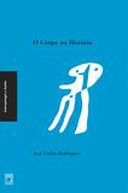 O corpo na história
0 Ungluers have Faved this Work
Resultado de estudo que o autor vem desenvolvendo há alguns anos, tendo inicialmente por objeto as representações sociais do corpo e da morte. O ponto de partida histórico arbitrado pelo autor - "porque qualquer recorte é arbitrário" - é a Idade Média, por vários motivos, entre os quais: por ser uma etapa histórica contra a qual as mentalidades e sensibilidades capitalistas se definem; por ser o 'outro específico' da civilização moderna e contemporânea, oferecendo, portanto, excelente material para pensar, indagar sobre, rever, contrastar e relativizar concepções e supostas verdades sobre o corpo.
This book is included in DOAB.
Why read this book? Have your say.
Rights Information
Are you the author or publisher of this work? If so, you can claim it as yours by
registering as an Unglue.it rights holder
.
Downloads
This work has been downloaded 15 times via unglue.it ebook links.
3 - mobi (CC BY) at Unglue.it.
4 - epub (CC BY) at SciELO.
8 - pdf (CC BY) at SciELO.
Keywords
Editions