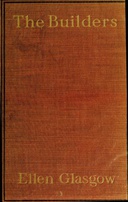 The Builders
0 Ungluers have Faved this Work
While the idealistic David Blackburn tries to improve the world with a new invention, his beautiful and formidable wife Angelica subtly and ruthlessly manipulates those around her. This 1919 novel of politics and patriotism, written about the aftermath of the First World War, reflects Glasgow's belief that individual discipline is the key to peace.
Why read this book? Have your say.
Rights Information
Are you the author or publisher of this work? If so, you can claim it as yours by
registering as an Unglue.it rights holder
.
Downloads
This work has been downloaded 61 times via unglue.it ebook links.
15 - pdf (0.1) (PD-US) at Github.
27 - epub (0.1) (PD-US) at Github.
19 - mobi (0.1) (PD-US) at Github.
Keywords
GITenberg
Household employees -- Fiction
Man-woman relationships -- Fiction
Married people -- Fiction
Nurses -- Fiction
PS
Richmond (Va.) -- Fiction
Sick children -- Fiction
World War, 1914-1918 -- United States -- Fiction
Links
web:
http://www.gutenberg.org/ebooks/37463
Editions