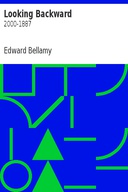 Looking Backward: 2000-1887
0 Ungluers have Faved this Work
Looking Backward by Edward Bellamy is a novel that takes the reader from the end of the 19th century into an idealistic vision of the 21st century. In many ways Looking Backward is a 19th century romantic novel; yet, on another level the novel is a complex investigation of the possibilities of humanity as the conversations unfold between Julian West, the narrator and time traveler, and Dr. leetee, his 21st century guide and mentor. Through these often Socratic conversations, Bellamy provides the reader with insight into the social problems and ills of the mid-to-late 19th century as well as with a vision of a utopian possibility for the millennium. Description from http://www.us.penguingroup.com/static/pdf/teachersguides/looking.pdf (Visited on Nov. 20, 2012).
Why read this book? Have your say.
Rights Information
Are you the author or publisher of this work? If so, you can claim it as yours by
registering as an Unglue.it rights holder
.
Downloads
This work has been downloaded 2 times via unglue.it ebook links.
2 - pdf (0.1) (PD-US) at Github.
0 - epub (0.1) (PD-US) at Github.
0 - mobi (0.1) (PD-US) at Github.
Keywords
Boston (Mass.) -- Fiction
GITenberg
PS
Science Fiction
Social problems -- Fiction
Time travel -- Fiction
Two thousand, A.D. -- Fiction
Utopian Fiction
Utopias -- Fiction
Links
web:
http://www.gutenberg.org/ebooks/25439
Editions