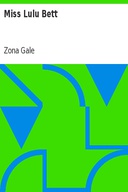 0 Ungluers have Faved this Work
Miss Lulu Bett is a 1920 novel by American writer Zona Gale, and later adapted for the stage. It was a bestseller at the time of its initial publication, but gradually fell out of favor with changing tastes and social conditions. From Wikipedia (CC BY-SA).
Why read this book? Have your say.
Rights Information
Are you the author or publisher of this work? If so, you can claim it as yours by
registering as an Unglue.it rights holder
.
Downloads
This work has been downloaded 9 times via unglue.it ebook links.
2 - mobi (0.1) (PD-US) at Github.
4 - pdf (0.1) (PD-US) at Github.
3 - epub (0.1) (PD-US) at Github.
Keywords
Divorced women -- Fiction
Feminist fiction
GITenberg
Housekeepers -- Fiction
Middle West -- Fiction
PS
Self-realization -- Fiction
Single women -- Fiction
Links
web:
http://www.gutenberg.org/ebooks/10429
Editions