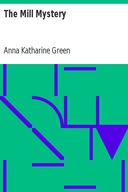 0 Ungluers have Faved this Work
Early detective novelist Anna Katharine Green was a unique writer in several respects, including the fact that many of the detectives featured in her novels are women. In The Mill Mystery, protagonist Constance Sterling takes on the seemingly impossible task of uncovering the true culprits behind the drowning death of a popular young pastor who is believed to have killed himself.
Why read this book? Have your say.
Rights Information
Are you the author or publisher of this work? If so, you can claim it as yours by
registering as an Unglue.it rights holder
.
Downloads
This work has been downloaded 9 times via unglue.it ebook links.
2 - mobi (0.1) (PD-US) at Github.
4 - pdf (0.1) (PD-US) at Github.
3 - epub (0.1) (PD-US) at Github.
Keywords
Detective and mystery stories
GITenberg
PS
Links
web:
http://www.gutenberg.org/ebooks/6805
Editions