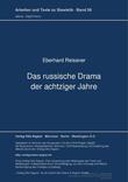 Das russische Drama der achtziger Jahre
0 Ungluers have Faved this Work
Lange vor dem sich immer deutlicher abzeichnenden totalen Versagen der kommunistischen Welterlösungsideologie und dem Zusammenbruch ihrer politischen Führungsmacht haben die bedeutendsten Schriftsteller des Landes den materiellen und geistigen Niedergang ihrer Gesellschaft erfaßt und zur Anschauung gebracht. Kritik am ökonomischen Versagen, Befragung der jüngeren Geschichte nach den Ursachen für den politischen Irrweg, Auseinandersetzung mit der moralischen Deformation im öffentlichen und privaten Bereich und die Suche nach einem neuen geistigen Halt sind die dominierenden Kennzeichen der russischen Dramatik der achtziger Jahre, die einen von Jahr zu Jahr schmerzlicher empfundenen Prozeß der Desillusionierung, aber auch der Selbstbefreiung von Verblendung und Lüge durchlaufen hat.
This book is included in DOAB.
Why read this book? Have your say.
Rights Information
Are you the author or publisher of this work? If so, you can claim it as yours by
registering as an Unglue.it rights holder
.
Downloads
This work has been downloaded 54 times via unglue.it ebook links.
3 - pdf (CC BY) at OAPEN Library.
Keywords
Abschied
achtziger
Drama
großen
History and criticism
Ideology and literature
Illusion
Intellectual life
Jahre
Kommunismus
künstlerische Aufarbeitung der Sowjetunion
Literature & literary studies
Perestrojka
Reissner
Russian drama
russische
Schmerzvoller
sowjetische Dramatik
Zusammenbruch der Sowjetunion
Links
DOI:
10.3726/b12853
Editions