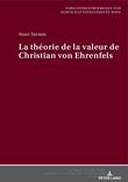 La théorie de la valeur de Christian von Ehrenfels
0 Ungluers have Faved this Work
Ce livre a pour objectif la redécouverte de la théorie de la valeur du philosophe autrichien Christian von Ehrenfels; et l'analyse de la possible utilisation de sa théorie dans les sciences économiques actuelles. Après avoir fait connaissance avec Christian von Ehrenfels, l'accent est mis sur l'analyse des principaux traits de sa théorie. Sa complexité fascinante n'a d'égale que la volonté d'exhaustivité du philosophe autrichien. Le débat induit par la discussion sur son utilisation dans les sciences économiques actuelles conduit à la conclusion que le philosophe autrichien a ouvert la voie à une nouvelle perspective sur le processus de valorisation et qu'il mérite à ce titre de sortir de l'oubli.
This book is included in DOAB.
Why read this book? Have your say.
Rights Information
Are you the author or publisher of this work? If so, you can claim it as yours by
registering as an Unglue.it rights holder
.
Downloads
This work has been downloaded 50 times via unglue.it ebook links.
5 - pdf (CC BY) at OAPEN Library.
Keywords
Christian
Economic Theory & Philosophy
Economics
Economics, finance, business & management
Ehrenfels
Ehrenfels, Christian von
Humanities
Österreichische Schule der Nationalökonomie
Philosophy
Tacoun
Theorie
Valeur
Werttheorie
Wirtschaftsgeschichte
Links
DOI:
10.3726/b13945
Editions