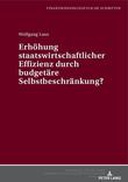 Erhoehung staatswirtschaftlicher Effizienz durch budgetaere Selbstbeschraenkung?
0 Ungluers have Faved this Work
Die Arbeit nimmt die in jüngster Zeit vor allem in den USA er- hobenen Forderungen nach einer verfassungsmässigen Begrenzung der Staatstätigkeit zum Ausgangspunkt für eine systematische Analyse der Vor- und Nachteile einer institutionellen Fixierung der Staats- quote. Grundlagen sind dabei zum einen eine Theorie des Staats- versagens, zum anderen ein politisches Modell, in dem das Angebot an öffentlichen Gütern aus der Beziehung zwischen Politikern und Bürokratien und die Nachfrage aus der Beziehung zwischen Bürgern und Politikern erklärt wird. Im Ergebnis erscheint eine Begrenzungs- regel günstig für die Qualität des Angebots aber unsicher in Bezug auf die Qualität der Nachfrage nach öffentlichen Gütern.
This book is included in DOAB.
Why read this book? Have your say.
Rights Information
Are you the author or publisher of this work? If so, you can claim it as yours by
registering as an Unglue.it rights holder
.
Downloads
This work has been downloaded 12 times via unglue.it ebook links.
12 - pdf (CC BY) at OAPEN Library.
Keywords
Ausgabengrenze
Budget
budgetäre
durch
Effizienz
einer
Erhöhung
Government spending policy
Idee
Laux
Pressure groups
Selbstbeschränkung?
STAATSWIRTSCHAFTL
staatswirtschaftlicher
Tax and expenditure limitations
verankerten
verfassungsmässig
Editions