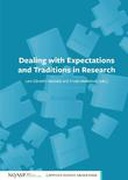 Dealing with Expectations and Traditions in Research
0 Ungluers have Faved this Work
"When considering societal expectations and traditions in research, assumptions are often an integral aspect – particularly in the disciplines pertaining to organization studies. The objective of this anthology is to analyze, clarify and demystify assumptions about research and the way that organizations work. The book is interdisciplinary in its form and content. The chapters are in part theoretical and analytical, yet draw on various empirical illustrations. In doing so, the book touches on the research process, basic assumptions in research, possibilities as well as pitfalls that both novice researchers as well as more experienced ones ought to keep in mind. The individual chapters address research and publication through a range of areas and topics including: accounting and management control, examination of the term 'organization' itself, and exploration of behavioral and social processes that lead to change in organizations and society as a whole. All of the chapters illuminate different roles in the research process in organization studies. Dealing with Expectations and Traditions in Research will be of interest to researchers on all levels, including PhD students and master's students writing term papers and their theses, as well as in methodological courses and discussions."
This book is included in DOAB.
Why read this book? Have your say.
Rights Information
Are you the author or publisher of this work? If so, you can claim it as yours by
registering as an Unglue.it rights holder
.
Downloads
This work has been downloaded 26 times via unglue.it ebook links.
2 - pdf (CC BY-NC) at OAPEN Library.
24 - pdf (CC BY-NC) at OAPEN Library.
Keywords
expectations
Organizations
Research
Research methods
Traditions
Links
DOI:
10.23865/noasp.42
Editions