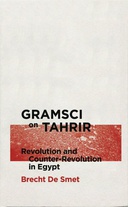 0 Ungluers have Faved this Work
Coming in the wake of intense political and academic debate on the nature and development of the Arab Uprisings, Gramsci on Tahrir zeroes in on the complex dynamic of Egypt's revolution and counter-revolution. It shows how a Gramscian understanding of the revolutionary process provides a powerful instrument for charting the possibilities for an emancipatory project by the Egyptian subaltern classes.Central to De Smet's argument is Gramsci's interpretation of 'Caesarism', an occasion in which two evenly matched political opponents reach a potentially catastrophic stalemate; such an interplay between these forces can only end in mutual destruction. In applying this to the Egyptian revolution, we see how the Egyptian state was bereft of strong hegemonies and the people were replete with capable counter-hegemonies. The current situation in Egypt demonstrates how both national histories and global power relations enable, define and displace popular resistance and social transformation.
This book is included in DOAB.
Why read this book? Have your say.
Rights Information
Are you the author or publisher of this work? If so, you can claim it as yours by
registering as an Unglue.it rights holder
.
Downloads
This work has been downloaded 48 times via unglue.it ebook links.
14 - mobi (CC BY-NC-ND) at Unglue.it.
11 - pdf (CC BY-NC-ND) at Unglue.it.
14 - epub (CC BY-NC-ND) at Unglue.it.
9 - pdf (CC BY-NC-ND) at OAPEN Library.
Keywords
Antonio Gramsci
Egypt
KUnlatched
Philosophy
Philosophy / Social
Political activism
Political Science
political theory
Politics
Revolution
Social movements
Tahrir Square
Editions