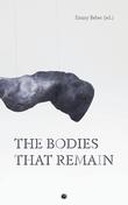 0 Ungluers have Faved this Work
The Bodies That Remain is a collection of bodies and absences. Through biography, experimental essay, interview, fictional manifestation, and poetic extraction, The Bodies That Remain is a collection of texts and images on the bodies of artists and writers who battled with the frustration of their own physicality and whose work reckoned with these limitations and continued beyond them. The essays in The Bodies That Remain look back at how the identities of these bodies were shaped by the spaces around them, through the retelling of memory, through stories told by others, of how their work, processed by their body, made it possible for others to experience sensations – mourning, desire, or a nostalgia that could not belong to another, to another's body – and in capturing this ability, their work confirms the body's urgency. Amongst others, The Bodies That Remain tells the story of Emily Dickinson's decay, the missing grave of Valeska Gert, the voice and sound of the body of Judee Sill, and the derailed body (and work) of Jane Bowles. It questions the absent body but broken organs of JT Leroy as they find themselves scattered across texts, and also interrogates the loss of distinction of illness for Jules de Goncourt as syphilis riddled his nervous system. It retrieves the illusory body of Kathy Acker through dream and through horror, sees the morphing body of Michael Jackson in becoming all of the bodies he was asked to be, and looks toward Sylvia Plath and the language of her own body. Where 'body' as a verb makes material something abstract, The Bodies That Remain, as a collection, became bodily.
This book is included in DOAB.
Why read this book? Have your say.
Rights Information
Are you the author or publisher of this work? If so, you can claim it as yours by
registering as an Unglue.it rights holder
.
Downloads
This work has been downloaded 26 times via unglue.it ebook links.
15 - pdf (CC BY-NC-SA) at OAPEN Library.
11 - pdf (CC BY-NC-SA) at OAPEN Library.
Keywords
embodiment
metempsychosis
Mortality
mourning
posthumous literature
Links
DOI:
10.21983/P3.0212.1.00
Editions