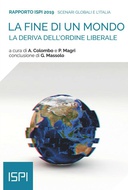 La fine di un mondo. La deriva dell'ordine liberale. Rapporto ISPI 2019
0 Ungluers have Faved this Work
Anche nell'ultimo anno si sono moltiplicati i segnali di scomposizione del mondo politico, economico e istituzionale concepito alla fine della Seconda guerra mondiale e definitivamente liberato dalla fine della guerra fredda. Intanto, l'avvento di Donald Trump alla presidenza degli Stati Uniti ha introdotto un'inedita tensione tra gli Usa e l'ordine internazionale da loro stessi prodotto.Più in generale, la crescita della Cina e la rinnovata assertività della Russia sembrano preludere a una nuova fase del riflusso dell'impatto occidentale sul resto del Mondo. Soprattutto, una variegata contestazione di legittimità ha investito lo stesso orientamento liberale dell'ordine post-bipolare, con conseguenze sempre più profonde sulla tenuta del tessuto multilaterale della convivenza internazionale, delle organizzazioni internazionali e persino dell'assetto istituzionale dei singoli stati.Il Rapporto ISPI 2019 s'interroga su questo sconvolgimento, tanto nella dimensione politica quanto in quella economica. La prima parte del volume è dedicata al contesto globale e ai suoi contraccolpi sull'Europa, mentre la seconda si rivolge come di consueto alla politica estera italiana.
This book is included in DOAB.
Why read this book? Have your say.
Rights Information
Are you the author or publisher of this work? If so, you can claim it as yours by
registering as an Unglue.it rights holder
.
Downloads
This work has been downloaded 15 times via unglue.it ebook links.
15 - pdf (CC BY-NC) at Unglue.it.
Keywords
Crisis
European Union
International Politics
Italy
KUnlatched
Liberalism
Political Science
Political Science / Geopolitics
Trump
USA
Links
DOI:
10.14672/67059195
Editions