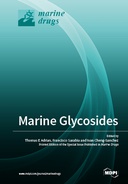 Marine Glycosides
0 Ungluers have Faved this Work
In recent years, there has been a steady increase in the publication of papers on the chemistry, biology, and potential clinical uses of marine glycosides. Indeed, more than half of the papers published in this field are less than a decade old. Glycosides have been isolated from species as diverse as algae, fungi, anthozoans, and echinoderms. Even fish of the genus Pardachirus produce glycosides, which they use as shark repellents.<false,>The major interest in these compounds as potential drugs stems from their broad spectrum of biological effects. They have been shown to have antimicrobial, antifungal, anti-inflammatory, immune modulatory, and anticancer effects. The anticancer effects of marine glycosides include cell cycle suppression, the induction of apoptosis, and the inhibition of migration, invasion, and metastasis, as well as antiangiogenesis. Marine glycosides influence membrane permeability and have been shown to influence membrane transport at the molecular level through effects on transport carriers and pumps, as well as effects on ligand-gated and voltage-gated channels. Various marine glycosides have been shown to activate sphingomyelinase and ceramide synthesis, to inhibit topoisomerase activity, receptor tyrosine kinase activity, and multidrug resistance protein activity, and to antagonize eicosanoid receptors.<false,>This Special Issue covers the entire scope of marine organism-derived glycosides that are of potential value as pharmaceutical agents or leads. These include, but are not limited to, tetracyclic triterpene glycosides, other triterpene glycosides, steroid glycosides, and glycosides of non-isoprenoid aglycones.
This book is included in DOAB.
Why read this book? Have your say.
Rights Information
Are you the author or publisher of this work? If so, you can claim it as yours by
registering as an Unglue.it rights holder
.
Downloads
This work has been downloaded 43 times via unglue.it ebook links.
9 - pdf (CC BY-NC-ND) at Unglue.it.
Keywords
Angiogenesis
angucycline
angucycline glycosides
anti-inflammatory
antibacterial
anticoagulant
antifungal
antimicrobial
antioxidant
antitumor
Apoptosis
bioactive compounds
Cancer
carbohydrate
cholesterol sulfate
Conus pulicarius
cucumarioside
Culcita novaeguineae
Cytotoxic
cytotoxic activity
Cytotoxicity
deep-sea
ESI
Eupentacta fraudatrix
frondoside A
glycoglycerolipids
glycolipids
glycoside
glycosides
glycosphingolipids
holostane
Holothuroidea
Invasion
LC-MS
Leukemia
liquid chromatography–tandem mass spectrometry
magnumosides
MALDI
mangrove-derived Streptomyces
marine ginseng
marine invertebrate
marine organisms
Mass Spectrometry
metabolite profiling
metastases
Natural Products
Neothyonidium magnum
nonholostane
Poecillastra compressa
polyhydroxysteroidal glycoside
radioactive irradiation
saponin
saponins
saquayamycin
sea cucumber
SMMC-7721
sponge
starfish
steroidal glycoside
Streptomyces
structure elucidation
total synthesis
triterpene glycoside
triterpene glycosides
tumor growth
urdamycin
Links
DOI:
10.3390/books978-3-03897-903-6
Editions