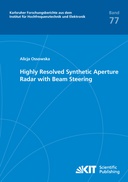 Highly Resolved Synthetic Aperture Radar with Beam Steering
0 Ungluers have Faved this Work
The present work deals with a highly resolved radar with a synthetic aperture (synthetic aperture radar - SAR), which uses a beam steering to improve performance. The first part of this work deals with the influence of various effects occurring in the hardware of the High-Resolution Wide-Swath SAR (HRWS SAR) system. A special focus was set to single bit quantization in multi-channel receiver. The second part of this work describes SAR processors for Sliding Spotlight mode.
This book is included in DOAB.
Why read this book? Have your say.
Links
DOI:
10.5445/KSP/1000044864
Editions