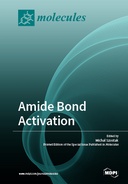 0 Ungluers have Faved this Work
The amide bond represents a privileged motif in chemistry. The recent years have witnessed an explosion of interest in the development of new chemical transformations of amides. These developments cover an impressive range of catalytic N–C bond activation in electrophilic, Lewis acid, radical, and nucleophilic reaction pathways, among other transformations. Equally relevant are structural and theoretical studies that provide the basis for chemoselective manipulation of amidic resonance. This monograph on amide bonds offers a broad survey of recent advances in activation of amides and addresses various approaches in the field.
This book is included in DOAB.
Why read this book? Have your say.
Rights Information
Are you the author or publisher of this work? If so, you can claim it as yours by
registering as an Unglue.it rights holder
.
Downloads
This work has been downloaded 35 times via unglue.it ebook links.
5 - pdf (CC BY-NC-ND) at Unglue.it.
Keywords
Activation
acyl transfer
acylative cross-coupling
addition reaction
additivity principle
alkynes
amidation
amide
amide activation
amide bond
amide bond activation
amide bond resonance
amide bonds
amide C–N bond activation
amide hydrolysis
amide resonance
Amides
amidicity
amination
amine
amino acid transporters
aminoacylation
aminosulfonylation
anomeric effect
antibacterial screening
antiviral activity
aryl esters
aryl thioamides
arynes
base-catalyed hydrolysis
biofilm eradication
bridged lactams
bridged sultams
C-H functionalization
C-H/C-N activation
C-N ? bond cleavage
C-S formation
carbanions
carbonylation
carbonylicity
Catalysis
catalyst
catalysts
cis/trans isomerization
cross-coupling
crown ether
cyanation
cyclization
cyclopentadienyl complexes
cytostatic activity
C–H acidity
C–H bond cleavage
C–N bond cleavage
C–O activation
density functional theory
density-functional theory
DFT study
dipeptides
directing groups
distortion
DMAc
DMF
Entropy
Enzymes
ester bond activation
excited state
formylation
fumardiamide
gemcitabine prodrug
HERON reaction
heterocycles
homogeneous catalysis
hypersensitivity
In situ
insertion
intein
intramolecular catalysis
kinetic
metabolic stability
metal complexes
Michael acceptor
model compound
Molecular Dynamics
multi-component coupling reaction
N
N,N-dimethylacetamide
N,N-dimethylformamide
N-(1-naphthyl)acetamide
N-dimethylacetamide
N-dimethylformamide
N-heterocyclic carbene
N-heterocyclic carbenes (NHCs)
nickel catalysis
nitro-aci tautomerism
nitrogen heterocycles
non planar amide
nuclear magnetic resonance
N–C activation
organic synthesis
Palladium
palladium catalysis
pancreatic cancer cells
Pd-catalysis
peptide bond cleavage
pharmacokinetics
Physical organic Chemistry
pre-catalysts
primaquine
protease
pyramidal amides
reaction mechanism
reaction thermodynamics
rhodium
rotational barrier energy
ruthenium (Ru)
secondary amides
sodium
steric effects
succindiamide
sulfonamide bond
Suzuki-Miyaura
Synthesis
tert-butyl
thioamidation
thiourea
transamidation
transition metals
transition-metal-free
trialkylborane
twisted amide
twisted amides
water solvation
Winkler-Dunitz parameters
[2+2+2] annulation
Links
DOI:
10.3390/books978-3-03921-204-0
Editions