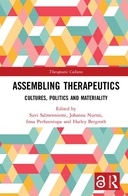 Assembling Therapeutics : Cultures, Politics and Materiality, 1st Edition
0 Ungluers have Faved this Work
The Open Access version of this book, available at https://www.taylorfrancis.com/books/e/9781351233392, has been made available under a Creative Commons Attribution-Non Commercial-No Derivatives 4.0 license. This volume examines the ways in which people engage with therapeutic practices, such as life coaching, mindfulness, complementary and alternative medicine, sex and relationship counselling, spiritual healing and self-tracking. It investigates how human and non-human actors, systems of thought and practice are assembled and interwoven in therapeutic engagements, and traces the situated, material and political dimensions of these engagements. By focusing on lived experiences through ethnographically informed case studies, the book elucidates the diverse forms, meanings and embodied effects of therapeutic engagements in different settings, as well as their potential for both oppressive and subversive social change. In this way, Assembling Therapeutics contributes to our understanding of multiple modes of healing, self-knowledge and power in contemporary societies.
Why read this book? Have your say.
Rights Information
Are you the author or publisher of this work? If so, you can claim it as yours by
registering as an Unglue.it rights holder
.
Downloads
This work has been downloaded 12 times via unglue.it ebook links.
12 - pdf (CC BY-NC-ND) at Unglue.it.
Keywords
Health & Social Care
Sociology
Links
web:
https://www.routledge.com/Assembling-Therapeutics-Open-Access-Cultures-Politics-and-Materiality/Salmenniemi-Nurmi-Perheentupa-Bergroth/p/book/9780815377979
Editions