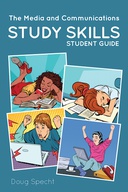 The Media and Communications Study Skills Student Guide
0 Ungluers have Faved this Work
All the tips, ideas and advice given to, and requested by, MA students in Media and Communications, are brought together in an easy-to-use accessible guide to help students study most effectively.
Based upon many years of teaching study skills and hundreds of lecture slides and handouts this introduction covers a range of general and generic skills that the author relates specifically towards media and communications studies. As well as the mechanics of writing and presentations, the book also shows how students can work on and engage with the critical and contemplative elements of their degrees whilst retaining motivation and refining timekeeping skills.
Of course the nuts and bolts of reading, writing, listening, seminars and the dreaded dissertation and essays are covered too. In addition advice on referencing, citation and academic style is offered for those with concerns over English grammar and expression.
Aimed primarily at postgraduate students, there is significant crossover with undergraduate work, so this book will also prove of use to upper level undergraduate readers whether using English as a first or second language.
Why read this book? Have your say.
Rights Information
Are you the author or publisher of this work? If so, you can claim it as yours by
registering as an Unglue.it rights holder
.
Downloads
This work has been downloaded 23 times via unglue.it ebook links.
13 - mobi (CC BY-NC-ND) at Unglue.it.
6 - pdf (CC BY-NC-ND) at Unglue.it.
4 - epub (CC BY-NC-ND) at Unglue.it.
Keywords
Communication Studies
learning resource
Media Studies
student guide
Study skills
Writing
Links
DOI:
10.16997/book42
web:
http://www.uwestminsterpress.co.uk/site/books/10.16997/book42/
Editions