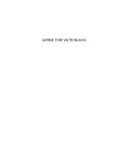 0 Ungluers have Faved this Work
Written by a team of eminent historians, these essays explore how ten twentieth-century intellectuals and social reformers sought to adapt such familiar Victorian values as `civilisation', `domesticity', `conscience' and `improvement' to modern conditions of democracy, feminism and mass culture. Covering such figures as J.M. Keynes, E.M. Forster and Lord Reith of the BBC, these interdisciplinary studies scrutinize the children of the Victorians at a time when their private assumptions and public positions were under increasing strain in a rapidly changing world. After the Victorians is written in honour of the late Professor John Clive of Harvard, and uses, as he did, the method of biography to connnect the public and private lives of the generations who came after the Victorians.
This book is included in DOAB.
Why read this book? Have your say.
Links
DOI:
10.4324/9780203992753
Editions