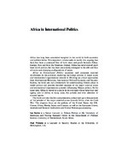 Africa in International Politics
0 Ungluers have Faved this Work
Locating Africa on the global stage, this book examines and compares external involvement in the continent, exploring the foreign policies of major states and international organizations towards Africa. The contributors work within a political economy framework in order to study how these powers have attempted to stimulate democracy, peace and prosperity in the context of neo-liberal hegemony and ask whom these attempts have benefited and failed.
This book is included in DOAB.
Why read this book? Have your say.
Links
DOI:
10.4324/9780203493175
Editions