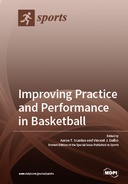 Improving Practice and Performance in Basketball
0 Ungluers have Faved this Work
Despite being one of the most popular sports worldwide, basketball has received limited research attention compared to other team sports. Establishing a strong evidence base with high-quality and impactful research is essential in enhancing decision-making processes to optimize player performance for basketball professionals. Consequently, the book entitled Improving Performance and Practice in Basketball provides a collection of novel research studies to increase the available evidence on various topics with strong translation to practice in basketball. The book includes work by 40 researchers from 16 institutions or professional organizations from 9 countries. In keeping with notable topics in basketball research, the book contains 2 reviews focused on monitoring strategies to detect player fatigue and considerations for travel in National Basketball Association players. In addition, 8 applied studies are also included in the book, focused on workload monitoring, game-related statistics, and the measurement of physical and skill attributes in basketball players. This book also has a strong focus on increasing the evidence available for female basketball players, who have traditionally been under-represented in the literature. The outcomes generated from this book should provide new insights to inform practice in many areas for professionals working in various roles with basketball teams.
This book is included in DOAB.
Why read this book? Have your say.
Rights Information
Are you the author or publisher of this work? If so, you can claim it as yours by
registering as an Unglue.it rights holder
.
Downloads
This work has been downloaded 50 times via unglue.it ebook links.
7 - pdf (CC BY-NC-ND) at Unglue.it.
Keywords
accelerometer
athlete
Athletic Performance
Attention
Basketball
basketball performance
basketball tactics
Body Composition
body fat
Circadian Rhythm
classification tree
collegiate athletes
countermovement jump
Elite sport
fat free mass
Fatigue
Female
game-related statistics
injury
Machine learning
maturation
microtechnology
Monitoring
motor manual sequences
Movement Assessment Battery for Children-2
n/a
NBA
non-linear analysis
performance analysis
playing position
Sleep
smallest worthwhile change
talent selection
team sports
training load
variability
visuo-spatial working memory
Women athletes
workloads
youth athletes
Links
DOI:
10.3390/books978-3-03921-695-6
Editions