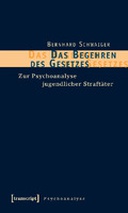 Das Begehren des Gesetzes
0 Ungluers have Faved this Work
Welche Rolle kann die Psychoanalyse aktuell in totalen Institutionen spielen? Dieses Buch nimmt im Kontext des Jugendstrafvollzugs dazu Stellung. In der psychoanalytischen Einzel- und Gruppenarbeit mit jugendlichen Straftätern führt die Auseinandersetzung mit den juristischen Gesetzen stets auf das grundsätzliche Prinzip zurück, das die Psyche und ihr Begehren strukturiert - diese Hypothese untersucht das Buch nicht zuletzt vor dem Hintergrund der bei Jugendlichen virulenten Pubertätsproblematik. Anders als die in Mode gekommenen kognitiven und konfrontativen Trainingsprogramme für Straftäter sieht es die Psychoanalyse als ihre Aufgabe, ein Sprechen zu ermöglichen, das den Zusammenhang von Gesetz und eigenem Begehren zur Sprache kommen lässt, indem immer weiter geredet wird, und dadurch das Ausagieren von Konflikten mindert.
This book is included in DOAB.
Why read this book? Have your say.
Rights Information
Are you the author or publisher of this work? If so, you can claim it as yours by
registering as an Unglue.it rights holder
.
Downloads
This work has been downloaded 39 times via unglue.it ebook links.
4 - pdf (CC BY-NC-ND) at OAPEN Library.
35 - pdf (CC BY-NC-ND) at Unglue.it.
Keywords
Begehren
Gefängnis
Jugend
jugendliche
Justizvollzug
Kriminalsoziologie
Psychoanalyse
Psychoanalysis
Psychologie
Psychology
Social Pedagogy
Society & Social Sciences
Sociology of Crime
Sozialpädagogik
Straftäter
Youth
Links
DOI:
10.14361/9783839411285
Editions