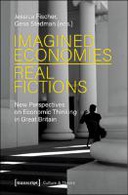 Imagined Economies - Real Fictions
0 Ungluers have Faved this Work
The way we conceptualise the economy and ourselves as homo economicus has profound consequences for our lives. The contributions to this anthology take debates about the financial crisis, about recent austerity measures or about the Brexit referendum a step further. A common denominator of these dynamics are underlying ideas of »the economy«. Each author identifies a facet of Britain's imagined economies. They connect seemingly separate fields such as finance and fiction in order to better understand current political changes. In addition, the book offers an urgently needed interdisciplinary view on the performative power of economic thought - and in this respect moves far beyond merely British perspectives.
This book is included in DOAB.
Why read this book? Have your say.
Rights Information
Are you the author or publisher of this work? If so, you can claim it as yours by
registering as an Unglue.it rights holder
.
Downloads
This work has been downloaded 10 times via unglue.it ebook links.
10 - pdf (CC BY) at Unglue.it.
Keywords
Brexit
British Studies
Cultural Studies
cultural theory
Culture
economic theory
economy
Europe
Financial Crisis
Great Britain
Homo Economicus
Neoliberalism
Power
Real Fiction
Reality
Links
DOI:
10.14361/transcript.9783839448816
Editions