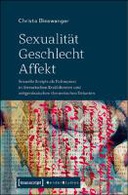 Sexualität - Geschlecht - Affekt
0 Ungluers have Faved this Work
Unterscheiden sich Männlichkeit und Weiblichkeit in der Sexualität? Sind Begehren und damit einhergehende Affekte geschlechtsspezifisch? Christa Binswanger untersucht die Wechselwirkung von Sexualität, Geschlecht und Affekt in deutschsprachiger Literatur von 1954 bis 2008. Sexuelle Scripts dienen ihr auf intrapsychischer, interpersoneller und kultureller Ebene als Analyseinstrument für ausgewählte literarische Texte, die historisch eingeordnet und einem queer reading unterzogen werden. Die Metapher des Palimpsests veranschaulicht dabei die Verflechtung sexueller Scripts mit Konzepten von Männlichkeit und Weiblichkeit.
This book is included in DOAB.
Why read this book? Have your say.
Rights Information
Are you the author or publisher of this work? If so, you can claim it as yours by
registering as an Unglue.it rights holder
.
Downloads
This work has been downloaded 7 times via unglue.it ebook links.
7 - pdf (CC BY-NC-ND) at OAPEN Library.
Keywords
affect
Affekt
Allgemeine Literaturwissenschaft
Critical Sexual Research
Cultural Studies
cultural theory
Culture
Deutsche Literatur
Elfriede Jelinek
Erzähltheorie
gender
Gender Studies
Gender studies, gender groups
German literature
Geschlecht
Geschlechterforschung
Guido Bachmann
Juli Zeh
Juli Zehh
Kritische Sexualforschung
Kultur
Kulturtheorie
Kulturwissenschaft
literary studies
Literatur
Literature
Marlene Streeruwitz
Max Frisch
Moderne
modernity
Narrative Theory
Palimpsest
Postmoderne
Postmodernism
Script
Selbst
Self
Sexualität
Sexuality
Social groups
Society & culture: general
Society & Social Sciences
Verena Stefan
Links
DOI:
10.14361/9783839451687
Editions