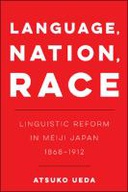 0 Ungluers have Faved this Work
A free open access ebook is available upon publication. Learn more at www.luminosoa.org. Language, Nation, Race explores the various language reforms at the onset of Japanese modernity, a time when a "national language" (kokugo) was produced to standardize Japanese. Faced with the threat of Western colonialism, Meiji intellectuals proposed various reforms to standardize the Japanese language in order to quickly educate the illiterate masses. This book liberates these language reforms from the predetermined category of the "nation," for such a notion had yet to exist as a clear telos to which the reforms aspired. Atsuko Ueda draws on, while critically intervening in, the vast scholarship of language reform that engaged with numerous works of postcolonial and cultural studies. She examines the first two decades of the Meiji period, with specific focus on the issue of race, contending that no analysis of imperialism or nationalism is possible without it.
This book is included in DOAB.
Why read this book? Have your say.
Rights Information
Are you the author or publisher of this work? If so, you can claim it as yours by
registering as an Unglue.it rights holder
.
Downloads
This work has been downloaded 3 times via unglue.it ebook links.
3 - pdf (CC BY) at OAPEN Library.
Keywords
Anthologies (non-poetry)
Asia
asian
Asian history
Historical & Comparative
Historical & comparative linguistics
History
Humanities
Japan
Japanese
Language
Language Arts & Disciplines
Linguistics
Literary Collections
Literature & literary studies
Regional & national history
Links
DOI:
10.1525/luminos.103
Editions