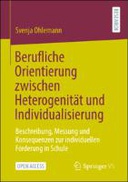 Berufliche Orientierung zwischen Heterogenität und Individualisierung
0 Ungluers have Faved this Work
Mit Blick auf die berufliche Orientierung Jugendlicher bietet dieses Open-Access-Buch eine systematische, theoriegeleitete und empirische Analyse heterogener Unterstützungsbedarfe und ihrer vielfältigen Ursachen. Die Bedeutung regelmäßiger Bedarfs- und Entwicklungsdiagnostik sowie einer systematischen Verzahnung einzelner Elemente beruflicher Orientierung im schulischen Kontext wird eindrucksvoll anhand heterogener und gleichzeitig diskontinuierlicher Entwicklungsverläufe verdeutlicht. Die Autorin weist zudem auf Konsequenzen für rahmengebende Berufsorientierungsprogramme, die Konzeption berufsorientierender Maßnahmen sowie für die Planung und Umsetzung schulinterner Konzepte hin.
This book is included in DOAB.
Why read this book? Have your say.
Rights Information
Are you the author or publisher of this work? If so, you can claim it as yours by
registering as an Unglue.it rights holder
.
Downloads
This work has been downloaded 2 times via unglue.it ebook links.
2 - pdf (CC BY) at OAPEN Library.
Keywords
Adult education, continuous learning
Berufliche Orientierung
Berufsorientierung
Berufswahl
Education
Education, general
Gender Studies
Gender studies, gender groups
Heterogenität
Kompetenz
open access
Personal Development
School Research
Schule
Social groups
Society & culture: general
Society & Social Sciences
Links
DOI:
10.1007/978-3-658-33039-2
Editions