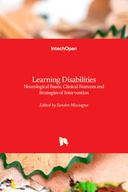 Learning Disabilities
0 Ungluers have Faved this Work
Learning disabilities are a heterogeneous group of disorders characterized by failure to acquire, retrieve, or use information competently. They are the most severe and chronic form of learning difficulty in children. They can be present at birth or acquired as a result of illness, exposure to toxins, poor nutrition, medical treatment, sociocultural deprivation, or injury. Learning problems typically consist in failure to acquire reading, writing, or math skills, which are traditionally considered core domains. This book explores the epidemiology, neurobiological bases, and diagnostic tools necessary for a comprehensive assessment of children with learning disabilities. It also presents examples of children with specific learning disabilities and explains possible intervention strategies.
This book is included in DOAB.
Why read this book? Have your say.
Rights Information
Are you the author or publisher of this work? If so, you can claim it as yours by
registering as an Unglue.it rights holder
.
Downloads
This work has been downloaded 2 times via unglue.it ebook links.
2 - pdf (CC BY) at mts.intechopen.com.
Keywords
Education
Educational psychology
Society & Social Sciences
Links
DOI:
10.5772/intechopen.86684
Editions