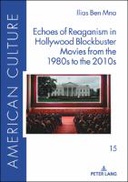 Echoes of Reaganism in Hollywood Blockbuster Movies from the 1980s to the 2010s
0 Ungluers have Faved this Work
This book examines the reverberations of key components of Ronald Reagan's ideology in selected Hollywood blockbuster movies. The aim of this analysis is to provide a clearer understanding of the intertwinement of cinematic spectacles with neoliberalism and neoconservatism. The analysis comprises a dissection of Reagan's presidential rhetoric and the examination of four seminal Hollywood blockbuster movies. The time range for analysis stretches from the 1980s until the 2010s. Among the key foci are filmic content as well as production and distribution contexts. It is concluded that Reagan's political metaphors and the corporatization of film studios in the 1970s and 1980s continue to shape much of Hollywood blockbuster filmmaking.
This book is included in DOAB.
Why read this book? Have your say.
Rights Information
Are you the author or publisher of this work? If so, you can claim it as yours by
registering as an Unglue.it rights holder
.
Downloads
This work has been downloaded 3 times via unglue.it ebook links.
3 - pdf (CC BY) at OAPEN Library.
Keywords
1980s
2010s
Blockbuster
Cinéma
Echoes
Film
Film History
Film theory & criticism
Film, TV & radio
Film: styles & genres
Films, cinema
hollywood
Literary studies: from c 1900 -
Literary studies: general
Literature & literary studies
Literature: history & criticism
movies
presidential rhetoric
Reaganism
The arts
US Politics
Links
DOI:
10.3726/b17914
Editions