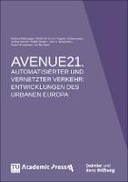 AVENUE21.
0 Ungluers have Faved this Work
The following publication shows the results of a Daimler and Benz Foundation grant-supported research project at the TU Wien. It is the shared achievement of the Faculty of Architecture and Planning and comprises more than two and a half years of interdisciplinary teamwork. The subject of the study are the effects of automated and connected vehicles on the European city, and the pre-conditions under which this technology can make a positive impact on urban development. The research team advocate for two theses which have received little notice in scientific discussions: • Automated and connected vehicles will not gain acceptance in all subspaces of the city for a long time. As a result, the assumed impact – from transport safety to efficiency, as well as spatial effects – must be newly appraised. • To ensure that this technology makes a positive contribution to the mobility of the future, transportation regulations and settlement policies must continue to develop, as well. Established territorial, institutional and organisational borders should be questioned, and soon. Despite, or perhaps because of current insecurity, we find ourselves at the start of a phase of creation and experimentation for the development of new technology, but also for politics, urban planning, administrations and the civilian community.
This book is included in DOAB.
Why read this book? Have your say.
Rights Information
Are you the author or publisher of this work? If so, you can claim it as yours by
registering as an Unglue.it rights holder
.
Downloads
This work has been downloaded 4 times via unglue.it ebook links.
4 - pdf (CC BY) at OAPEN Library.
Keywords
Architecture
Autonomous driving
City & town planning - architectural aspects
Civil engineering, surveying & building
Economics, finance, business & management
Europe
Geographical Qualifiers
Highway & traffic engineering
Industry & industrial studies
Intelligent & automated transport system technology
Landscape art & architecture
Manufacturing industries
Regional & area planning
Road transport industries
Road vehicle manufacturing industry
Technology, engineering, agriculture
The arts
traffic planning
Transport industries
Transport planning & policy
Transport technology & trades
Urban development
Links
DOI:
10.34727/2020/isbn.978-3-85448-030-3
Editions