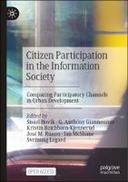 Citizen Participation in the Information Society
0 Ungluers have Faved this Work
This open access book examines how digital technologies are used to promote citizen participation in democratic urban development. It assesses the emergence, use, applicability and functions of digital modes of citizen participation in multiple cities around the world, where political regimes invite ordinary citizens to partake in policy processes through information technologies. The book also explores these initiatives alongside issues of democracy, social justice and power. It is an essential reference for practitioners, policymakers and academics interested in the relationship between citizen participation, technology and urban governance.
This book is included in DOAB.
Why read this book? Have your say.
Rights Information
Are you the author or publisher of this work? If so, you can claim it as yours by
registering as an Unglue.it rights holder
.
Downloads
This work has been downloaded 9 times via unglue.it ebook links.
2 - epub (CC BY) at Unglue.it.
1 - pdf (CC BY) at Unglue.it.
Keywords
Digitalization
E-participation
Gentrification
innovation
local democracy
Political structure & processes
Politics & government
Public administration
Society & Social Sciences
Sociology
Sociology & anthropology
Urban development
Links
DOI:
10.1007/978-3-030-99940-7
web:
https://link.springer.com/book/10.1007/978-3-030-99940-7
Editions