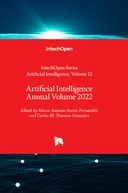 Artificial Intelligence Annual Volume 2022
0 Ungluers have Faved this Work
Artificial Intelligence (AI) has attracted the attention of many researchers and users alike, and it has become increasingly crucial in our modern society. From cars, smartphones, airplanes, medical equipment, consumer applications, and industrial machines, among others, the impact of AI is notoriously changing the world we live in and making it better in many areas. However, it is equally important to remember that every progress comes with certain challenges that we as a society must address.
This book is included in DOAB.
Why read this book? Have your say.
Rights Information
Are you the author or publisher of this work? If so, you can claim it as yours by
registering as an Unglue.it rights holder
.
Downloads
This work has been downloaded 1 times via unglue.it ebook links.
1 - pdf (CC BY) at mts.intechopen.com.
Keywords
artificial intelligence
Computer science
Computing & information technology
Links
DOI:
10.5772/intechopen.109246
Editions