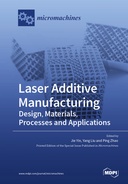 Laser Additive Manufacturing: Design, Materials, Processes and Applications
0 Ungluers have Faved this Work
Laser-based additive manufacturing (LAM) is a revolutionary advanced digital manufacturing technology developed in recent decades, which is also a key strategic technology for technological innovation and industrial sustainability. This technology unlocks the design and constraints of traditional manufacturing and meets the needs of complex geometry fabrication and high-performance part fabrication. A deeper understanding of the design, materials, processes, structures, properties and applications is desired to produce novel functional devices, as well as defect-free structurally sound and reliable LAM parts.The topics in this Special Issue reprint include macro- and micro-scale additive manufacturing with lasers, such as structure/material design, fabrication, modeling and simulation, in situ characterization of additive manufacturing processes and ex situ materials characterization and performance, with an overview that covers various applications in aerospace, biomedicine, optics and energy.In this Special Issue reprint, papers on different subjects were published after the high-quality reviewing process, with a total of 17 contributions (1 editorial, 2 review papers and 14 original research papers) and times viewed being over 13K (as of Nov 15 2022). Six articles were selected as Editor's Choice, and one article was selected as the Issue Cover (Volume 13, Issue 8).
This book is included in DOAB.
Why read this book? Have your say.
Links
DOI:
10.3390/books978-3-0365-6069-4
Editions