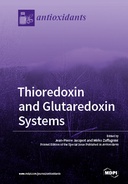 Thioredoxin and Glutaredoxin Systems
0 Ungluers have Faved this Work
This Special Issue features recent data concerning thioredoxins and glutaredoxins from various biological systems, including bacteria, mammals, and plants. Four of the sixteen articles are review papers that deal with the regulation of development of the effect of hydrogen peroxide and the interactions between oxidants and reductants, the description of methionine sulfoxide reductases, detoxification enzymes that require thioredoxin or glutaredoxin, and the response of plants to cold stress, respectively. This is followed by eleven research articles that focus on a reductant of thioredoxin in bacteria, a thioredoxin reductase, and a variety of plant and bacterial thioredoxins, including the m, f, o, and h isoforms and their targets. Various parameters are studied, including genetic, structural, and physiological properties of these systems. The redox regulation of monodehydroascorbate reductase, aminolevulinic acid dehydratase, and cytosolic isocitrate dehydrogenase could have very important consequences in plant metabolism. Also, the properties of the mitochondrial o-type thioredoxins and their unexpected capacity to bind iron–sulfur center (ISC) structures open new developments concerning the redox mitochondrial function and possibly ISC assembly in mitochondria. The final paper discusses interesting biotechnological applications of thioredoxin for breadmaking.
This book is included in DOAB.
Why read this book? Have your say.
Rights Information
Are you the author or publisher of this work? If so, you can claim it as yours by
registering as an Unglue.it rights holder
.
Downloads
This work has been downloaded 48 times via unglue.it ebook links.
10 - pdf (CC BY-NC-ND) at Unglue.it.
Keywords
Adult Stem Cells
ageing
ALAD
Antioxidants
Arabidopsis thaliana
Ascorbate
Baking
Calvin cycle
Calvin-Benson cycle
carbon fixation
chilling stress
Chlamydomonas reinhardtii
chlorophyll
chloroplast
cold temperature
Cyanobacteria
cysteine alkylation
cysteine reactivity
Development
disulfide
dough rheology
electrostatic surface
ferredoxin-thioredoxin reductase
flavin
function
glutaredoxin
Glutathione
glutathionylation
H2O2
iron–sulfur cluster
Isocitrate dehydrogenase
legume plant
macromolecular crystallography
MALDI-TOF mass spectrometry
metazoan
methanoarchaea
methionine
methionine oxidation
methionine sulfoxide
methionine sulfoxide reductase
methionine sulfoxide reductases
Mitochondria
monodehydroascorbate reductase
n/a
NADPH
nitrosylation
oxidized protein repair
Photosynthesis
physiological function
Plant
plastidial
posttranslational modification
Protein
protein oxidation
protein-protein recognition
proteomic
redox
redox active site
redox control
redox homeostasis
redox regulation
redox signalling
Regeneration
Régulation
Repair
ROS
SAXS
signaling
Specificity
Stress
Symbiosis
tetrapyrrole biosynthesis
thiol redox network
thioredoxin
thioredoxin reductase
thioredoxins
water stress
wheat
X-ray crystallography
Links
DOI:
10.3390/books978-3-03897-837-4
Editions